Happy 4th of July Haddonfield!
4 FUN FACTS for the 4th!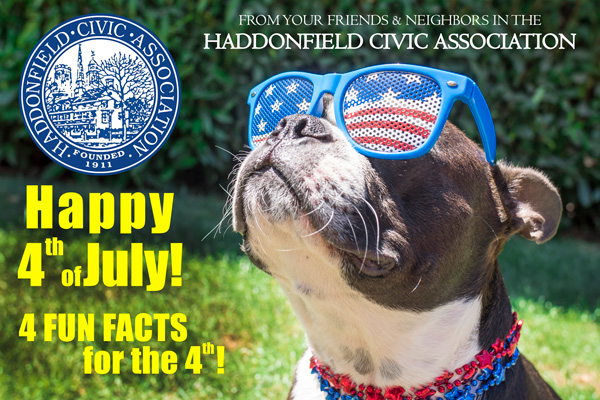 FUN FACT #1
On July 2nd, 1776, the Continental Congress voted in favor of independence, and two days later delegates from the 13 colonies adopted the Declaration of Independence, a historic document drafted by Thomas Jefferson, our 3rd president, and Founding Father. John Adams, our 2nd president, and Founding Father, believed that July 2nd was the correct date on which to celebrate the birth of American independence, and would reportedly turn down invitations to appear at July 4th events in protest. Adams and Thomas Jefferson both died on July 4, 1826—the 50th anniversary of the adoption of the Declaration of Independence.
FUN FACT #2
The Indian King Tavern in Haddonfield – Quaker Haddonfield tried to limit its involvement in the American Revolution, but because of its location as a crossroads, the town was unable to avoid being affected. In 1777 the New Jersey Assembly, fleeing from the British, met in session at the Indian King Tavern and declared that this was no longer the "Colony" of New Jersey but was now the State of New Jersey. The Great Seal of the State of New Jersey was also adopted by the legislature while at the Indian King.
FUN FACT #3
Both British and American forces encamped at Haddonfield or marched through here during various campaigns. Lafayette was among the leaders of the Revolution who was known to have stayed in the town during the war. In 1904 the Indian King Tavern became the first historic site purchased by the State of New Jersey.
FUN FACT #4
The "Guard House" building in Haddonfield stands across the street from the Indian King Tavern. It was built before the Revolutionary War and is now used as office space. However, a plaque on the building says that it served "during the Revolutionary War as a guard house for persons suspected of aiding the British cause and brought for trial before the Council of Safety, then meeting in the Indian King."
To learn more about Haddonfield's History please visit: https://haddonfieldhistory.org/
https://www.revolutionarywarnewjersey.com/new_jersey_revolutionary_war_sites/towns/haddonfield_nj_revolutionary_war_sites.htm
Learn More About Our Awards Below: