Alfred E. Driscoll Community Service Award
Since 1931, the Haddonfield Civic Association has recognized individuals or organizations that have made a lasting, positive impact on our town in a volunteer capacity. Each year, the HCA presents the Alfred E. Driscoll Award honoring the late Governor Driscoll, a distinguished citizen of Haddonfield and the state of New Jersey.
The Award acknowledges an uncommon effort made on behalf of the community, with the intention that those who receive it will inspire others, and that it will encourage broader participation in civic activities in the Haddonfield.
Click Here to See Last Year's Award Winners.
See Past Recipients below.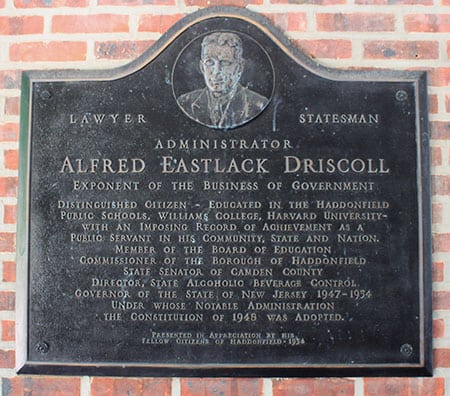 Who Was Alfred E. Driscoll?
Alfred E. Driscoll, distinguished Haddonfield citizen, HMHS Class of 1921, was a Governor of the state of New Jersey from 1947-1954.
He was in public service for many decades including:
Haddonfield Board of Education 1929-1937
Haddonfield Borough Commissioner  1937-1947
NJ State Senator 1939-1941
Governor of New Jersey 1947-1954
While building the NJ Turnpike, the Garden State Parkway, and NJ Palisades were all remarkable achievements, he also accomplished the following:
1) Desegregating all NJ public schools in 1948.
2) He also desegregated the NJ National Guard and State Police.  He received notice from the US Military that they would decertify the NJ National Guard since the US Military had not desegregated yet and as a result NJ would be defunded.  He stood his ground.  Apparently it went up the chain of command and President Eisenhower, who was close with him, commanded the US Military to immediately start planning to desegregate the entire military.  One quiet domino set it all off.  NJ was never decertified.
3) He was able to get NJ to finally adopt a new State Constitution.  It included the requirement of a thorough and efficient education for all NJ students.  He believed that a well-educated populace was important to the success of the state.  Many other progressive ideas in there too.
4) He acquired and incorporated the Wharton Tract, Batsto, Island Beach, the Walt Whitman House, and vast other tracts into the NJ Park System.  Two primary reasons – he believed that all residents should be able to enjoy the natural beauty of the state and sought to protect natural resources for the benefit of the populace, ie. underground fresh water aquafers.   He was a great believer in preserving open space and the environment.
He truly was a progressive, inclusive, and visionary man. 
(Who was Alfred E. Driscoll was written by the Haddonfield Alumni Society – visit them at  https://HMHSalumni.org/)
2020's Recipients
2010's Recipients
2017 Joseph "Joe" Murphy
2016 Mark Reifsnyder
2015 Maureen Eyles
2014 Jack O'Malley
2013 Kim Custer
2012 Lee Albright
2011 American Legion Post 38
2010 Rosie Hymerling
2000's Recipients
2009 Linda Brees and DeForest "Butch" Brees
2008 Doug Rauschenberger and Kathy Tassini
2007 Haddonfield Auxiliary Police
2006 Joe Haro
2005 John Connell
2004 HATCH
2003 Gene Kain
2002 First Night
2001 Bob Parsons
2000 John H. Reisner III, Esquire
1990's Recipients
1999 Haddonfield Lions' Club
1998 Interfaith Caregivers
1997 John J. Tarditi, Jr.
1996 Rev. Charles Sayres
1995 Haddonfield Rotary
1994 Y's Men
1993 Bill Reynolds
1992 Siddons Harper, Jr. & Harold Elliott
1991 Haddonfield Garden Club
1990 Bob Schaeffer
1980's Recipients
1989 Haddon Fire Company No. 1
1988 Tom Patton Haddonfield Pickup Band
1987 Dorothy McGlade
1986 Haddonfield Friends School
1985 C. Carlton Read
1984 The Haddonfield Crime Watch
1983 The Bancroft School 1 OOth Anniversary
1982 HarryT. Kaufmann
1981 Kenneth G. Weaber
1980 Haddonfield 65 Club
1970's Recipients
1979 Walter Saladik
1978 The Haddonfield Red Cross Blood Bank
1977 The Haddonfield Bicentennial Committee (1976)
1976 Martha and Louis Goettelmann
1975 Borough Commissioners, Past & Present