Alfred E. Driscoll Community Service Award
Since 1931, the Haddonfield Civic Association has recognized individuals or organizations that have made a lasting, positive impact on our town in a volunteer capacity. Each year, the HCA presents the Alfred E. Driscoll Award honoring the late Governor Driscoll, a distinguished citizen of Haddonfield and the state of New Jersey.
The Award acknowledges an uncommon effort made on behalf of the community, with the intention that those who receive it will inspire others, and that it will encourage broader participation in civic activities in the Haddonfield.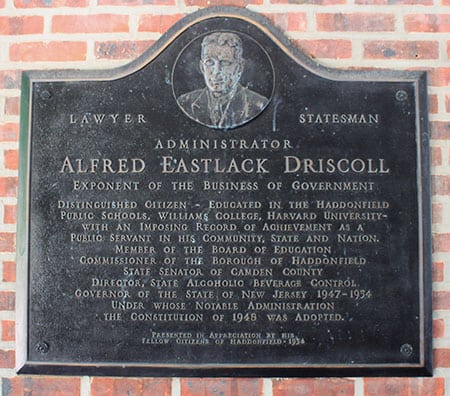 2010's Recipients
2019 Stuart Harting
2018 Letitia "Tish" Colombi
2017 Joseph "Joe" Murphy
2016 Mark Reifsnyder
2015 Maureen Eyles
2014 Jack O'Malley
2013 Kim Custer
2012 Lee Albright
2011 American Legion Post 38
2010 Rosie Hymerling
2000's Recipients
2009 Linda Brees and DeForest "Butch" Brees
2008 Doug Rauschenberger and Kathy Tassini
2007 Haddonfield Auxiliary Police
2006 Joe Haro
2005 John Connell
2004 HATCH
2003 Gene Kain
2002 First Night
2001 Bob Parsons
2000 John H. Reisner III, Esquire
1990's Recipients
1999 Haddonfield Lions' Club
1998 Interfaith Caregivers
1997 John J. Tarditi, Jr.
1996 Rev. Charles Sayres
1995 Haddonfield Rotary
1994 Y's Men
1993 Bill Reynolds
1992 Siddons Harper, Jr. & Harold Elliott
1991 Haddonfield Garden Club
1990 Bob Schaeffer
1980's Recipients
1989 Haddon Fire Company No. 1
1988 Tom Patton Haddonfield Pickup Band
1987 Dorothy McGlade
1986 Haddonfield Friends School
1985 C. Carlton Read
1984 The Haddonfield Crime Watch
1983 The Bancroft School 1 OOth Anniversary
1982 HarryT. Kaufmann
1981 Kenneth G. Weaber
1980 Haddonfield 65 Club
1970's Recipients
1979 Walter Saladik
1978 The Haddonfield Red Cross Blood Bank
1977 The Haddonfield Bicentennial Committee (1976)
1976 Martha and Louis Goettelmann
1975 Borough Commissioners, Past & Present