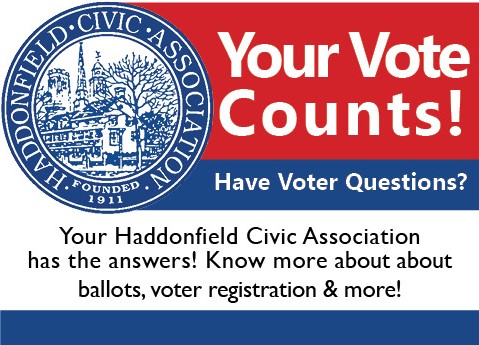 ELECTION INFORMATION UPDATE (Sept. 22, 2020)
Gov. Phil Murphy signed an executive order for the Nov. 3 elections.
Elections to be conducted in a hybrid but mostly mail-in fashion.
All of the NJ's active registered voters will automatically receive prepaid postage ballots in the mail by Oct. 5.
There will be no sample ballots. What you receive is what you use to vote.
You can put your ballot

in the mail
drop it in one of several secure boxes to be set up across the state
bring it to polling location on Election Day
or vote provisionally in person.

If you vote by mail, all ballots must be sent through the U.S. Postal Service, postmarked by Nov. 3, and received by county election boards by 8 p.m., 
Ballots that lack postmarks because to postal error must be by 8 p.m. Thursday, Nov. 5 to be counted — 48 hours after in-person polls have closed.
You can still vote in person — just not in the traditional sense. There will still be some in-person polling locations across the state where people can cast a paper provisional ballot.
There will be at least one physical polling location in each of New Jersey's 565 municipalities, but most people won't vote via the machines we're all accustomed to using.
Instead, voters will cast paper provisional ballots at those locations, though there will be ADA-conforming voting machines for those with disabilities.
Provisional ballots are counted later, after election officials can verify if you haven't already voted by mail.
Counties must make sure there are enough polling places to accommodate at least half of their voters. We will keep you posted on where to find them in Haddonfield.
You can also bring your mail-in ballot to an in-person site to make sure it's dropped off, Murphy said.
The state will also set up secure boxes where you can drop your ballot. There will be at least 10 in each county, officials said.
All public schools in New Jersey will be closed to in-person instruction on Election Day. That, Murphy said, is to allow schools to be used as polling places.
There will be a new online voter registration system. Murphy said it will be up by Sept. 4, "giving new voters an added ability to ensure they get registered."
You can check your registration status on the state's elections website. You have until Oct. 13 to register.
What if you don't receive a ballot in the mail? If you have problems, you ca visit the state's elections website, call the state's Voter Protection hotline at 1-877-NJVOTER, or reach out to your local officials.
You can also track your ballot on the state's elections website. That will show if it gets back to your county's board of elections.