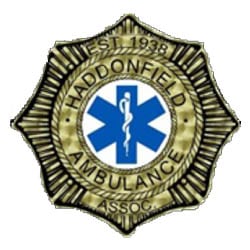 Haddonfield Ambulance Association
Address: 15 N. Haddon Avenue, Haddonfield, NJ 08033
Phone: (856) 429-4308.
Email: Chief Sam Trotman – sthfc29@gmail.com
Website: http://haddonfieldambulance.org/
Established in 1938, the Haddonfield Ambulance Association maintains two ambulances. The first ambulance is the primary service provider and the second ambulance serves as a reserve that also functions on as needed basis for special events. HAA provides emergency services 24 hours a day 7 days a week 365 days a year.
Our crews respond to over 1000 emergency calls. Our crews respond 24 hours a day, 7 days a week including weekends and holidays. Our crews are trained to the state mandated requirements and skills are kept fresh through numerous training sessions on a variety of subjects.
Haddonfield Ambulance Association currently offers CPR including AED certification and First Aid classes to the public.